New Court Date for Potter Critic Mallory's Appeal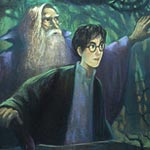 Apr 12, 2007
Uncategorized
The Atlanta Journal-Constitution reports that the Superior Court of Gwinnett in Georgia will hear the appeal of the State Board of Education's ruling against longtime Harry Potter critic, Laura Mallory, and her claim that the fictional book's spot in the school district's libraries was teaching the children 'witchcraft.' Mallory's last attempt at getting the Harry Potter series banned from schools failed this past winter when the Board of Education upheld the School Boards past rulings (as well as other previous committees decisions) that the books should stay.
Laura Mallory requested the appeal after the State Board of Education determined in December that the Gwinnett school board acted appropriately when it voted to keep Harry Potter books in school libraries.
…
The Gwinnett school board decided last May that the books encourage children to read and should remain in school libraries. Mallory appealed to the state education board.

During the state appeal hearing, Mallory said the popular books are harmful. She said the stories encourage children to perform spells and that the books' good characters lie, cheat and steal and are not punished."
The May 29th court hearing "…will serve as a review of the decisions made by the state and local boards of education on this issue," Sloan Roach, the district spokeswoman said earlier this week.