J.K. Rowling and the Quest for Inspiration in Art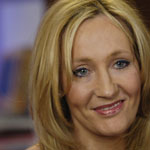 Apr 16, 2007
Uncategorized
In an introduction written for a new guide to children's books set in Edinburgh, J.K. Rowling describes how she once took to wandering through the some of the great art collections in Scotland seeking inspiration while writing some of the Harry Potter novels. The Scotsman reports tonight that Jo "took to wandering the halls of the National Galleries of Scotland in a 'desperate and random measure' as she sought inspiration. However, it only left her feeling miserable."
The newspaper goes on to cite further quotes from Jo via the Reading Round Edinburgh book:
Memories of Edinburgh "leap out of the pages of Harry Potter for me", Rowling writes, "the places I wrote particular chapters and passages; where I despaired of ever having another idea; where I experienced all the delights and the frustrations of living in a fictional world."

But while the city has many "Potteresque vistas", she cannot point to particular buildings or streets featured in her books.

She slaps down the idea that Hogwarts was based on a "certain public school" in the city.
You can learn more about this book, here and here. It is also available via our Cauldron Shop as well.
Thanks Palikka!