Casting Continues for "Half-Blood Prince" Film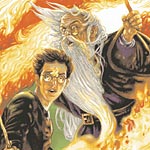 Apr 17, 2007
Uncategorized
Despite no formal director announcement yet, casting is apparently ongoing for the upcoming film version of Harry Potter and the Half-Blood Prince. The Iceland Review has a new report today about an actor who said he recently auditioned for a role in the sixth Harry Potter film, with the speculation that the part was for the role of young Voldemort. The paper quotes Jón Páll Eyjólfsson (additional photo, here)as saying
"I have met the people who are behind this film and I have read from the script. At this stage you only get to see parts of the script and there is a lot of secrecy about this whole thing," Eyjólfsson said.
The report says he has been asked back for the next round of auditions, with the final announcement due in May. Another interesting tidbit from the paper says that the actor's school mates in London "was Steven Kloves, who wrote the script for Harry Potter and the Half Blood Prince. Kloves was the one who suggested Eyjólfsson for a role in the movie."
Harry Potter and the Half-Blood Prince is due to begin filming later this summer, and will be released in theaters November of 2008.