More from IGN on "Order of the Phoenix" Video Game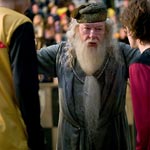 Apr 21, 2007
Uncategorized
There is another new preview online via IGN of the Harry Potter and the Order of the Phoenix video game, which also includes one new shot of the XBOX 360 game. You can see this new image here.
In this new interview, we learn more how the team from EA worked very hard and meticulously to create a wonderful magical world for fans to explore in this game, as the team constructed " a 3D virtual Hogwarts — getting their blue prints of the movie sets, going to the exterior locations with tape measurers and high-end digital cameras, and reviewing how these locations have been translated into the movies, poring over every detail." In addition, they really worked on trying to ensure a realistic look to the game including the older trio:
IGN: In The Order of the Phoenix, Harry, Hermione and Ron are growing up. How has that been reflected in the game?

Harvey Elliott: Well, for starters the obvious change is that they are visually older. We facial scanned each of the actors as they came off set to get up-to-the-minute data to ensure that they look exactly like the characters they portray in the movie. We also see their magic has improved and they are becoming more powerful wizards. And finally, with the vast majority of the cast reprising their roles from the movies, their characters really come out in the game — as a result, they are definitely more determined and a little less prepared to listen to 'authority.'
This game is available for pre-order via our Cauldron Shop and will be released on the PlayStation 2, PlayStation 3, PC, PSP, XBOX 360,Nintendo DS, Nintendo Wii, and Gameboy Advance platforms.