Full-Length Domestic OotP Trailer Now Online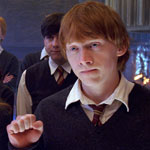 Apr 24, 2007
Uncategorized
The full-length domestic trailer for Harry Potter and the Order of the Phoenix is now available at Yahoo!, and on TLC's YouTube channel and in our VidGals. (
Digg this news! | Share on Facebook!)
UPDATE: HUGE Hi-Res stills are now in our galleries!
The trailer runs 2:28 minutes and contains, as we reported yesterday, glimpses at previously unseen footage including clips of Hermione speaking about the DA; Harry addressing (and giving inspirational speeches to) the DA; the Order on Privet Drive; Voldemort and Dumbledore facing off; details of the Ministry battle, Grawp (his feet, anyway), and more.
There's also new poster on Yahoo! and here in our galleries!
UPDATE: Yahoo has the clip in amazing High Def (screencaps here in our galleries)
with the links as follows:
UPDATE 2: Warner Bros. has now sent us the direct links to the trailer :
Quicktime
Windows Media Player