J.K. Rowling Portrait in Smithsonian, on New Rich List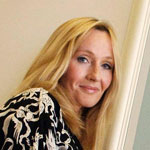 Apr 29, 2007
Uncategorized
There are a couple pieces of news today to tell you about Harry Potter author J.K. Rowling.
First, many of you mailed to say that a portrait of Jo is on exhibit in the Smithsonian's National Portrait Gallery. The "Great Britons: Treasures from the National Portrait Gallery, London" exhibition now open at the famous museum complex here in Washington, D.C, will showcase " 60 of the finest painted portraits and photographs of the most significant British figures of the past 500 years." Along with the portrait of JKR, others will include individuals such as Henry VIII , Winston Churchill, Margaret Thatcher, and even Stephen Hawking. A press release also says others featured:
"are images of the finest authors of Britain's literary tradition, including the 'Chandos Portrait' of William Shakespeare, the very first portrait to be presented to the National Portrait Gallery, London in its inaugural year of 1856. Bringing the exhibition up to date are outstanding contemporary portraits of "Harry Potter" author J.K. Rowling, soccer star David Beckham and musician Mick Jagger."
The exhibit runs now to September 3. You can see this portrait of Jo here in our galleries.
Also, the Sunday Times has released their annual "Rich List," and J.K. Rowling makes another appearance on the Scotland Rich List this year, with the BBC reporting:
Author JK Rowling's wealth has risen slightly to £545m ahead of this summer's publication of the final instalment in her Harry Potter series of seven books.

She slips one place in the Scottish rankings, but with the movie of the fifth Potter book also due out, her fortune is likely to rise sharply in 2008.
Thanks Emma!