816 Pages for Deluxe Edition of "Harry Potter and the Deathly Hallows"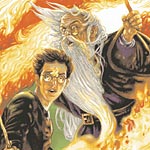 Apr 30, 2007
Posted by SueTLC
Uncategorized
Last month, we first told you of the details to the Deluxe Edition of Harry Potter and the Deathly Hallows. Scholastic has updated their website to list a page count now for this edition: 816 pages. The regular hardback edition of the US edition of Harry Potter and the Deathly Hallows is set at 784 pages As posted previously, this special edition volume of the last Harry Potter book:
Includes exclusive insert featuring near scale reproductions of Mary GrandPré's interior art, as well as never-before-seen full-color frontispiece art on special paper. The custom-designed slipcase is foil-stamped and contains a full-cloth case book that has been blind-stamped on front and back cover with foil stamping on the spine. The book includes full-color endpapers featuring jacket art from the Trade edition and a wraparound jacket featuring art created especially for this edition by Mary GrandPré.
You can pre-order this volume, here. Thanks Pete, and Matt!