Living in Harry Town USA?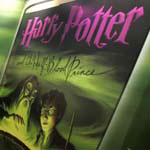 Apr 04, 2007
Uncategorized
Do you live in the Harry-est town in the U.S.A? Amazon is asking that very question as today they kicked off a new feature where they are looking for "Harry-est Town" in America, the honor given to the town which has pre-ordered the most copies of Harry Potter and the Deathly Hallows from Amazon.com on a per capita basis." Including towns and cities of populations greater than 5,000, Amazon will award the winning city a "$5,000 Amazon.com gift certificate to a charitable organization of its choice."
Using a new Muggle counter to keep track of the overall number of "Deathly Hallows" copies ordered to date (current standing as of this post: 458,873), the current top ten "Harry-est Towns" in the USA are as follows:
1. Falls Church, Va.

2. Fairfax, Va.

3. Gig Harbor, Wash.

4. Vienna, Va.

5. Katy, Texas

6. Media, Pa.

7. Issaquah, Wash.

8. Doylestown, Pa.

9. Pembroke Pines, Fla.

10. Snohomish, Wash.
These standings will be updated weekly, and you will be able to view these results via this link.
Amazon Canada also announced they are holding this same event in their country; more details on that here.
If you would like, you may pre-order Harry Potter and the Deathly Hallows via our Cauldron Shop where proceeds benefit the entire Floo Network.