New Interview with OotP Video Game Producer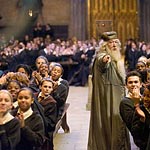 Apr 04, 2007
Uncategorized
Justin Manning, an Associate Producer of the upcoming Order of the Phoenix video game for Electronic Arts, recently gave an interview with GamesRadar.com talking about the experience of playing this new game and what feedback from the fans helped in the development process.
Mr. Manning says in one part of the interview:
The biggest feedback we get from the fans is that they wanted to be able to explore Hogwarts. With this mind, the game still has the narrative thread from the movie, but the player can select to do the wide variety of missions in any order. Explore the world to find the mission givers and then explore even further to complete the tasks/missions for them.
The complete interview features even more from Mr. Manning and screencaps from the video game, which we first showed you last month. These images can be seen in our Image Galleries. You can pre-order the OotP video game through Leaky's own Cauldron Shop!
Thanks to Megan for mailing!