Wizard Wheezes Wanted!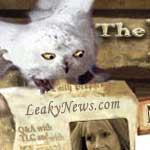 Apr 04, 2007
Uncategorized
Calling all creative makers of mischievous fun, have we got a new contest for you! As we just celebrated the birthday of our two favorite purveyors of lighthearted magical havoc in the Harry Potter world, it is only fitting that we announce our newest contest involving a new product that the twins can stock in Weasleys' Wizard Wheezes. The challenge this month is for you to dream up a new magical product, and then create the advertisement sign bearing the slogan for it, the name of the product, and an idea of what exactly this product is and may contain.
There is an entry limit of one per person, and these items must be pg-13 friendly. Other rules involve the following:
Entry can be hand-drawn or created on the computer (i.e. Photoshop or animation)
Size is to be no larger than letter size paper (8.5″x11″ or 11″x8.5″), 72 pixels/inch resolution on Photoshop in the same width and height, or 400 x 400 pixels for an animation. Image size can be manipulated if it pertains to the overall look of the sign
All submissions must be solely the artist's creation. Any artwork found to include the work of others will be disqualified immediately. Photoshop and animation images must be edited to a point when a majority of the image is an original composition.
Submissions will be accepted in .jpg, .png, or .gif format.
Please include a name you would like to go with your entry (i.e. Leaky Lounge username, first name initial and last name, or first name).
All submissions must be e-mailed to [email protected] by April 30 at midnight (EDT) with the competition and category included in the subject line (e.g. "Digital — WWW entry" or "Hand Drawn — WWW entry").
Fun, Mischief, Mayhem, and Hilarity are the rule of the day so enjoy! Winners will be announced on this page and their images put into our galleries. Good Luck!
Speaking of luck, we can now also announce the winners of the March Contest for the for the Felix Felicis competition. They are:
1st Place: Filch, by Donald B
2nd Place: Umbridge, by Lolarose
3rd Place: Lockhart, by Lui C
4th Place: Neville, by Alison L
Honorable Mention: Luna, by Chris C
Honarable Mention: Fred and George, by Christina "Nina" B