Dr. Who, Harry Potter Fan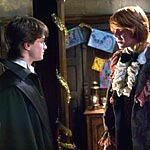 Apr 08, 2007
Uncategorized
Barty Crouch Junior is Harry Potter fan…well of sorts. Many readers emailed to say that over the weekend in a new episode of the hit UK television program "Doctor Who," there were quite a few mentions of the magical world of Harry Potter. In an episode called "The Shakespeare Code," apparently there were several references made to our favorite boy wizard such as "Isn't that a bit Harry Potterish?" and the time traveling hero of the show even said " Just wait till you read book 7! Oh I cried!" However, apparently the best part was saved for the ending, when the hero asked for a suggestion to help out in a tight spot and then used a spell to save the day, noting something like "Good Old JK." According to all who wrote, the delicious irony and what made it so fun was the fact that this spell was cast on the show by actor David Tennant, who Harry Potter fans know from the Goblet of Fire film as Barty Crouch Jr.
Update: Thanks to Hilde, Chris and all who mailed, we now know you can watch this here in our galleries. Enjoy!
Thanks to all who emailed!