Is Snape Good or Evil?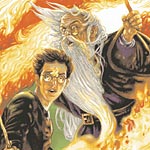 May 01, 2007
Uncategorized
Is Snape Good or Evil? That is the question long asked by fans of the Harry Potter series, and so now too is Scholastic asking this question as part of the "There Will Soon Be 7" campaign. The US publishers have now updated their Harry Potter website with the second of the questions they will be asking over the coming weeks before the release of Harry Potter and the Deathly Hallows on July 21, 2007.
Fans can vote, here, on answers relating to the nefarious Potions master:
Good and still a spy for the Order of the Phoenix
Good but in too deep with Voldemort
Evil and has always been a spy for Voldemort
EVil but only because Voldemort is back
And no alas, 'slimy git who needs to keep his nose out of people's business and go wash his hair' is not an option. 😉 You can also see this question about Snape on bookmarks that you can download at home. Fans may want to note the bookmark this time features a photo of stone stairs leading down to an open doorway, perhaps to Snape's potions room? Also updated is the second poster, this being a cover of Harry Potter and the Chamber of Secrets. Be sure to explore the cover art to this and all the US covers by Mary GrandPre here.