Poetic Potter Writers Wanted for New Online Contest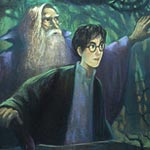 May 10, 2007
Uncategorized
New, used and out-of-print online bookseller AbeBooks.com is holding a poetry contest to find the best 'Potter Poet.' A one-of-a-kind, hand crafted Harry Potter bookshelf, made from what else but… the Harry Potter books themselves, will we awarded to writer of the best overall poem as judged by AbeBooks staff.
To enter the contest, we want you to compose a poem dedicated to Harry Potter. It can be anything from a limerick to a haiku to a love poem to an elegy to a sonnet. Be creative — the finest poem about the Boy Wizard will win and we'll also publish the best ones on AbeBooks. There is no limitation on length. You can enter up to three times separately but each entry must contain just one poem.
The contest closes July 6th and the winner will be announced on July 10th. The prize itself will be shipped to the winner before July 21st, just in time for the release of Harry Potter and the Deathly Hallows. Complete rules and entry information can be found here, along with information on the American book sculptor, Jim Rosenau.