New OotP Footage from Entertainment Tonight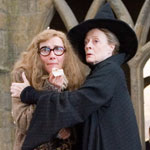 May 12, 2007
Uncategorized
Syndicated program "Entertainment Tonight" broadcast portions of a new trailer for Harry Potter and the Order of the Phoenix late last night that contained new footage, including a clip of Lupin (David Thewlis) speaking at the dinner table in Grimmauld Place. This footage, which also contains new shots of Harry with the Dementors, as well as clips of Sirius and Bella fighting before the Veil (similar to that HBO sneak look we saw last year) can be seen here.

A second OotP TV spot, containing footage seen previously, but with a new announcer voiceover, can be seen here as well.
Thanks very much to Mirko from Portkey.it!