"Harry Potter and the Deathly Hallows" Stamps Due for U.K.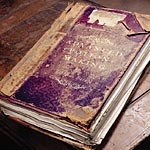 May 20, 2007
Uncategorized
The Royal Mail in the UK has announced they will issue special stamps to mark the release of Harry Potter and the Deathly Hallows. The Times reports these stamps will be available starting July 17 and will have images of all seven books on first-class stamps. In addition the "crests of Hogwarts school and its four houses will also appear on a set of five." A rep for the postal service in the U.K. was quoted as saying they were "proud to commemorate and celebrate an illustrious British author and a true global publishing phenomenon."
UPDATE: Thanks to reader Sarah, we can now see what the book cover stamps look like here, courtesy of the BBC.