OotP Wii Video Game Walkthrough Video Online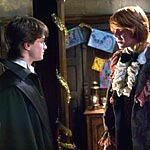 May 20, 2007
Uncategorized
Another promotional video is online this week from GameTrailers.com showing a developer walk-through of the Harry Potter and the Order of the Phoenix Wii platform video game. In this walk-through, we are taken through the game's 'fully discoverable Hogwarts' and shown how to use the Wiimote as Harry's wand in order to preform spells from the books including: Accio, Wingardium Leviosa and Reparo. We see excellent detail of this upcoming game and visual instruction as to how the Wiimote will effect the gamers experience, as we told you about in this article last month.
The Harry Potter and the Order of the Phoenix video game will be available June 25th on the the Nintendo Wii, Playstation 3, Xbox 360, PlayStation2, PSP, Nintendo DS, Game Boy Advance, and Windows PC platforms, and is available for pre-order here in our own Cauldron Shop.
Thanks to everyone who mailed!