Clip From "Harry Potter and the Order of the Phoenix" Airs on "Ellen" Show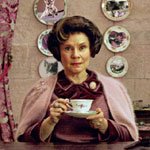 May 21, 2007
Uncategorized
As we first told you last week, a brand new scene from the upcoming Harry Potter and the Order of the Phoenix film was to be broadcast today during the "Ellen" program. This has now aired and the scene featured Professor Dumbledore (Michael Gambon) introducing Professor Umbridge (Imelda Staunton) to the students in the Great Hall of Hogwarts, with reactions from Harry (Dan Radcliffe), Hermione (Emma Watson), Fred and George (James and Oliver Phelps). Also shown during the scene were the adult staff, including Professor McGonagall (Dame Maggie Smith), Professor Flitwick (Warwick Davis), Professor Trelawney (Emma Thompson) and Professor Snape (Alan Rickman). The scene featured Harry speaking briefly to Hermione about Umbridge with Fred and George also commenting,however the bulk of it focused on Umbridge giving her speech, including her rather creepy giggle at the end.
UPDATE # 2: We now have the video clip for you (including an iPod friendly version) here in our galleries. Enjoy!
UPDATE: Stephanie from Rupert Grint.net managed to get the clip, which you can watch via this link. (windows media and please right click etc) Enjoy! Thanks Stephanie!