Bonham Carter on Bellatrix Look in OotP: "Sunset Boulevard Thing Going On"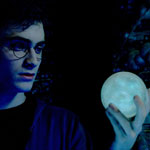 May 25, 2007
Uncategorized
Bellatrix Lestrange and the actress who portrays her are the subject of a feature in the new issue of "Entertainment Weekly" magazine. Describing her character of Bella as "a sadist," Helena Bonham Carter details the look of the costumes that Bellatrix wears during Harry Potter and the Order of the Phoenix. One highlight:
"For much of the film, Bellatrix wears a slinky, stitched-together black ensemble that's seen better days-think Catwoman after a blender. "I wanted her to be sorta falling apart at the seams, literally," says Bonham Carter. "She's very aristocratic, very posh. But there's a Sunset Boulevard thing going on."
Thanks to Stephanie from Rupert Grint.net we can see the scan of this article, here in our galleries. Thanks Stephanie!