Cape Wrath to Meet Voldemort's Fury in "Half-Blood Prince" Movie?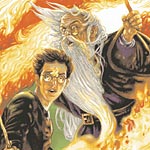 May 26, 2007
Uncategorized
Scotland on Sunday has a lengthy new article about possible locations in Scotland to be used for the filming of Harry Potter and the Half-Blood Prince. In a rather delicious piece of irony, one of the leading contenders for the possible site of filming for the dramatic Cave chapter is at a place called Cape Wrath, located in the northern part of Scotland. Quotage:
Warner Bros, which is preparing to shoot Harry Potter And The Half-Blood Prince, has sent an executive to the cliffs and caves around Cape Wrath, and also to a sea cave close to the Whaligoe Steps near Wick, and has been in talks over filming in the north.

…

The producers are interested in using the caves and cliffs as part of the dramatic climax of the new film – the sixth in the series – in which the heroes wind their way along a sea-lashed coastline in search of the soul of the evil Lord Voldemort.
The article continues on to specify other locales of interest to the Warner Brothers crew.
Sue Quinn, a London-based locations manager with Warner Bros, travelled to Scotland last month, taking a boat trip from Lochinver around Cape Wrath towards Durness, and then heading to Wick to check out the shore and caves at Whaligoe, near Lybster.

The main locations she checked out were:

• Smoo Cave, near Durness, which is 200ft long, 130ft wide, and 50ft tall at its entrance;

• Clo Mor, near Cape Wrath, which at 921ft, are the highest cliffs on the UK mainland;

• The arches under Cape Wrath, which contain a string of long caves;

• Stac Clo Kearvaig, a tower of rock that rises 130ft above the waves near Cape Wrath;

• The cave at the Whaligoe Steps, which lies in a bay enclosed by two large sea cliffs.

The locations are thought to be in competition with similar settings in the Leinster and Munster provinces of Ireland, and with New Zealand, where Lord Of The Rings was filmed.

Jimmy McIntosh, the former Kinlochbervie harbour master who took Quinn out on his boat, said: "She was taking thousands of photographs of the cliffs, caves and rocks. She seemed to be very interested in Smoo Cave and the stacks in particular.
Earlier reports had producers considering portions of Ireland as possible settings for Harry Potter and the Half-Blood Prince. Filming is due to begin in a few months on the sixth Harry Potter film, that is due for release in November, 2008.