New Interview and Images of Dan Radcliffe from Japanese Magazine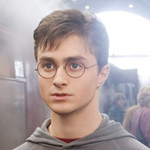 May 26, 2007
Uncategorized
The July issue of Japanese magazine Myojo features a few new pictures and an interview with Harry Potter actor Dan Radcliffe, who spoke more about his performance in Harry Potter and the Order of the Phoenix. DanRadcliffe.co.uk has scans from the magazine as well as a translation of part of the interview. In this bit from the article, Dan speaks of working with OotP director David Yates and the relationship between his character and that of Sirius Black (Gary Oldman) in the fifth film:
I discussed the plan for acting with David Yates. The main objective was to get the movement of Harry's feelings by reading the book. It was very challenging work though; I had made my own character finally. It was the first time that I deeply related to the scenario. Before the scenario writer began to write, we discussed whom who relations were most important. David agreed with my opinion that the concentration of energy on the relationship between Harry and Sirius in particular is important. Because Sirius is a very important existence for Harry this time and it connects with the last important scene by firmly drawing it.
You can see scans of the two page spread here and here via DanRadcliffe.co.uk and now in our very own Image Galleries. Harry Potter and the Order of the Phoenix will be released in theaters on July 13.
Thanks to those who mailed for the heads up!