More International OotP Stickers Scans, Including First Look at Young Lily, More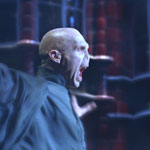 May 29, 2007
Uncategorized
More new scans from the Panini Harry Potter and the Order of the Phoenix sticker book are now online. Included are (spoiler!) our first look at young Lily during the Pensieve scene, as well as a new photo of a dejected Malfoy, new Snape, McGonagall, Seamus, Arthur at the Ministry, and finally a huge group of the DA meeting at Hogsmead including Dean, the Patil sisters, Fred and George, Ginny, Neville, Luna, the mysterious Nigel and more. To see all of the new scans, click here.
Also, on a related note, new photos of some rather large 3-D posters for Harry Potter and the Order of the Phoenix film have turned up in Belgium. Thanks to UHP you can see photos of these here, and here.
Thanks to Mirko from Portkey.it and to UHP!