New OotP Set Visit Reports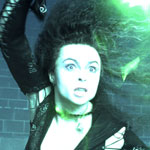 May 30, 2007
Uncategorized
Two new set visit reports about the filming of Harry Potter and the Order of the Phoenix are now online. First our Floo partner the HP-Lexicon has posted a report, where Steve Vander Ark makes mention of things listed specifically on the clipboard belonging to Professor Umbridge, as well as some very cool details on books and such found in the Headmaster's office at Hogwarts.
Also online is are two reports, including a new video interview with MTV featuring Dan Radcliffe and director David Yates on the set of the Ministry of Magic. Along with many new quotes is some great new footage, including more of the "Floo powder fireplaces" the wizards use to get to work every day, shots of the Daily Prophet and more. Also new is this new report that gives details about what should be a fun scene in Phoenix, the "Extendable Ears" courtesy of Fred and George at Grimmauld Place. Highlights:
Meanwhile, not far away, Harry's friends Hermione Granger and siblings Ron, Ginny, Fred and George Weasley are trying to get some information of their own in an interior set for 12 Grimmauld Place, the secret headquarters of the Order of the Phoenix organization. Covered by a second-unit camera team, the actors — Emma Watson, Rupert Grint, Bonnie Wright and James and Oliver Phelps, respectively — are crowded into a hallway, eavesdropping on members of the Order with one of author Rowling's many magical inventions, an "Extendable Ear."

"It's an ear on a string, but you need to dislodge the wax to hear through it," James Phelps said.

"It's a weird magical way to secretly listen to a conversation in the kitchen," said Wright. "And it's disturbed by Crookshanks, Hermione's cat, who comes along and starts playing with the Ear because he thinks it's a toy. He runs away with it, and we're quite annoyed because we're trying to find out what's happening."
Also new in the article are quotes from Dan Radcliffe and director David Yates about filming scenes in the Ministry of Magic. As reported yesterday, Harry Potter and the Order of the Phoenix will now be released in theaters here in the US July 11. Thanks dancer!