NECA Launches New "Order of the Phoenix" Action Figure Series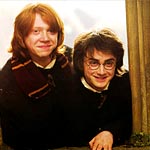 May 31, 2007
Uncategorized
With the new month of June comes the opportunity to get some new Harry Potter merchandise which is about to hit store shelves in the coming days. Thanks to NECA (who hold the North American license for Potter products) we can now tell you about some of these items including the launch of their Harry Potter and the Order of the Phoenix series 1 action figures. There is a new mini-site which spotlights the new figures of Sirius Black(Gary Oldman), Ron Weasley(Rupert Grint), Hermione Granger(Emma Watson), Harry Potter (Dan Radcliffe) and that Death Eater test dummy figure that we've seen on the Dumbledore's Army website and in the trailers for the film. The site includes photos of the individual figures, as well as the packaging and a cool "making of" feature on each item. This new series of toys is available now, here in our Cauldron Shop. Update: You can now see photos of these new figures in our image galleries, with the "making of" photos, here.
Also new is an announcement from NECA about a "Talking Hagrid" figure. According to the website this Hagrid (played by Robbie Coltrane) figure which comes with Fang the dog, dead ferrets, and a pink umbrella accessory, stands " 9 3/4″ tall, in scale with the rest of our Harry Potter figures" and says "ten phrases from the hit films" including the following:
* Rubeus Hagrid, Keeper of Keys and Grounds at Hogwarts.
* You're a wizard Harry.
* Never…insult Albus Dumbledore in front of me.
* Strictly speaking, I'm not allowed to do magic.
* I'm on official Hogwarts business.
* Welcome, Harry, to Diagon Alley.
* Codswallup.
* I shouldn't have said that. I should not have said that.
* The trick with any beast is to know how to calm him.
* Mad and hairy? You wouldn't be talking about me, now would ya?
You can see some photos of this new Hagrid figure here in our galleries.