Evanna Lynch, Jewelry Designer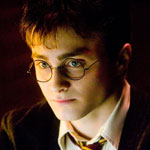 May 06, 2007
Uncategorized
USA Weekend Magazine has their new 2007 Summer Movie preview online, and it contains a bit about our favorite eccentric jewelry wearing Ravenclaw from the upcoming Harry Potter and the Order of the Phoenix. The article focuses on Evanna Lynch who portrays Luna Lovegood, and mentions the fabulous radish earrings that Evanna wears in her role for the fifth Harry Potter film. As first mentioned on PotterCast, Evanna did make the earrings herself (seen here in this photo) for her role, impressing the professional costume department so much, they let her wear them in the film.
HARRY POTTER AND THE ORDER OF THE PHOENIX (July 13) The new student at Hogwarts, the "odd" witch Luna Lovegood, is described in the novel as wearing radish earrings. The costume department on the film hired several jewelry designers to make the earrings, but Evanna Lynch, the young actress who plays Luna, was so into the character that she made her own. "And they were better!" says costume director Jany Temime. "More artsy-craftsy, more like what a creative young girl would do. The stuff we had was too professional. So we used hers."
The USA Weekend is found in many newspapers here in the States.