New Deathly Hallows Countdown, Trivia Game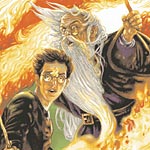 May 07, 2007
Uncategorized
That's our new Harry Potter and the Deathly Hallows trivia game/countdown, available for use on your Web site/MySpace/whatever (for LJ, use the "HTML" option and pick "Embed Media"). This was supposed to be out a few days ago but we've all been playing with the spinning book instead of working on making this announcement.
This little piece of awesomeness was designed by John Noe and created/programmed by new Leaky Flash Coder Ashley. Our Praxagora made up and loaded in the questions. It loads a new trivia question up every day. Roll your mouse over the book to spin it around like mad (hint: run your mouse over it really fast diagonally for a superfast spin – this has kept some of us entertained for hours) – click on the plus to get the code for your own site.
For this and more countdowns to the book and film, visit countdowns.leakynews.com. Enjoy!