Presenting the PotterCast Summer of 7 Tour!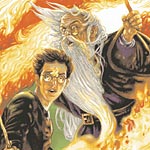 May 07, 2007
Uncategorized
In an effort to meet as many of you as humanly possible during this incredible summer, we are proud to present…the PotterCast Summer of 7 TOUR!
The three hosts from PotterCast, our Harry Potter podcast, are going to be traveling the Pacific Southwest in half of June and through part of the midwest in July, for a summer that will feature more than 20 live shows all over the country at Borders bookstores, libraries and more. And what's MORE, for all of June, we will be traveling alongside the Harry and the Potters Summer 2007 Tour, so that we can present three huge, live, joint podcast/rock shows at libraries! For the first time EVER you can see us both in one place! And, on the June days that we're not doing a joint show, you can meet us at a podcast midday and come with us to the HatP show at night. It's several weeks of daylong parties, guys, and we can't wait to dance it out with you.
In July we'll be all over the Midwest (though we are not yet sure about details of July 20, so we'll let you know that as soon as we can).
Come see us! We can't wait to meet SO MANY THOUSAND of you, and dish theories nonstop in these last days during which theories are worth their weight in galleons!
Our full schedule is HERE. You can also visit us at PotterCast.com or the PotterCast MySpace, both of which will shortly feature all this content.
While touring, and before it, we will be providing constant content updates, pictures, videos, blogs, etc., from the PotterMobile. John, Sue and Melissa are set to spend a very long time in the car together and it should lead to some, um, interesting things. If you can't make it out to hang with us, we hope that you can experience part of this awesome summer that way. And, of course, audio from all the shows will be posted online, so you can listen anywhere!
You'll hear more about how this tour came to be, and our plans, on this week's PotterCast, which will be out this evening.
That's it! Get planning! See you there! We can't wait to meet you!