Amazon.com: One Million Pre-Order for "Harry Potter and the Deathly Hallows" (Updated)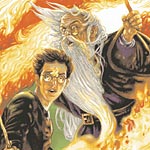 May 08, 2007
Uncategorized
Earlier we reported that many of the book retailers such as Borders, Barnes & Noble, and Amazon were experiencing large and very brisk pre-sales of Harry Potter and the Deathly Hallows. Today that is quite evident as Amazon.com has announced they now have over one MILLION pre-orders already for the last Harry Potter novel. This number comes from the more than 620,000 copies pre-ordered in the US, and the 250,000 plus pre-orders from the UK. The company has also now dropped the price of the book, as this one million pre-order book mark comes just 95 days after Deathly Hallows became available, beating the record set back in 2005 for Harry Potter and the Half-Blood Prince which took 174 days to get to the one million pre-order mark.
UPDATE: Amazon has also announced one of the most Harry-est towns in the UK, which is currently Wallingford, home of mystery author great Agatha Christie. These stats, which are on going both in the UK and the US, are keeping track of cities that have the most pre-orders of Harry Potter and the Deathly Hallows.
Many of the book retailers are assuring a delivery date of July 21 and if you would like to pre-order Harry Potter and the Deathly Hallows, you can do via our Cauldron Shop, where proceeds benefit the entire Floo Network.