Cauldron Shop Update: New NECA Action Figures, Marauders Map Banner, and More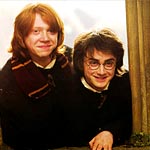 May 09, 2007
Uncategorized
For some time we have been telling you about the many new Harry Potter items you can expect to see this spring and summer. Today, the first wave of new products from NECA, who hold the North American license to Harry Potter items, is now available in our Cauldron Shop, your Harry Potter shopping one stop. We now have some great new things as we get closer to the release of Harry Potter and the Order of the Phoenix, including the wave of action figures, new wall banners, pillows, dolls, lunch boxes, and much more. A full listing follows below. In addition, the Lego Harry Potter Castle (including that Umbridge mini-fig) is also available for pre-order via this link. Finally, new is a book recently released that may be of interest to all you crafty Potter fans. Called "Charmed Knits," you can find many patterns for sweaters, socks, blankets and more (photos here).
Right, on to the new list of NECA items which is as follows:
For more on Harry Potter Crafts, click here for our Crafts Section. All proceeds made via the Cauldron Shop benefit the entire Floo Network and your continued support is most appreciated. In the near days, the shop will also be adding some great new vendors and new products, so stay tuned for further updates on that!