Nicholas Hooper Speaks about the Score to "Order of the Phoenix"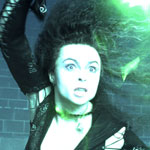 May 09, 2007
Uncategorized
The May 8 edition of Film Music Weekly contains a new interview with Nicholas Hooper about his score he composed for the upcoming Harry Potter and the Order of the Phoenix. Recorded in March and April at the famed Abbey Road Studios in London, England, the music for the fifth Harry Potter film will again contain the beautiful Hedwig's Theme originally created by John Williams for Sorcerer's Stone, where we will hear this piece again "first in the film's opening and then subsequently at particular dramatic moments."
The music will feature a choir, the 90 member Chamber Orchestra of London, electronic sounds, and even a particular drum. ""Worth particular note was a huge Taiko drum from Japan, suggested by my agent Darrell Alexander — it makes a deep sound you can actually feel," says Nicholas Hooper. Mr. Hooper continues on to describe two of the new themes we will hear in the soundtrack, due to be released on July 10.
"The themes of the film itself demanded a lot of fresh and different material. Two of the main themes developed were the 'Umbridge Theme' and the 'Possession Theme'," explains Nicholas Hooper. "Professor Umbridge is a new central character in this fifth story, and is an apparently fluffy but cruel and increasingly mad witch who is planted in the school by the Ministry of Magic. The theme reflects her character in an insistent, irritating way and was great
fun to write — should be a hit with ring tones!

The 'Possession Theme' is the story of Harry's gradual possession by Voldemort, who convinces him that Sirius Black, his godfather, is being tortured. It appears in various forms, at times slow but mainly with a sense of panic, and often getting faster and faster. This searing theme was enormously rewarding to write."
To read this entire interview, click here (PDF, pg 4) Thanks much to lost duck!