J.K. Rowling to Appear on Jonathan Ross, Today Show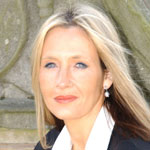 Jun 13, 2007
Uncategorized
While we are still pondering over the third and final WOMBAT which now available on JKRowling.com (yes yes the third time is the charm, as the door is FINALLY OPEN, so go take that test now!) there is some additional news about Jo this morning. NBC's The Today Show announced they will be airing a three part interview with our favorite author, with the interview segments to air Thursday, July 26 and Friday, July 27 and on "Dateline," Sunday, July 29. The press release on this states that this interview "will explore the Harry Potter phenomenon, including Rowling's notable impact on literacy, her readers, on the publishing industry, and the inspiration she has given young writers." NBC also says this interview, scheduled to take place in Edinburgh, Scotland will be " the first time she will talk about the worldwide reaction to the final Harry Potter volume and the much anticipated and guessed-about Potter finale, "Harry Potter and the Deathly Hallows." TLC will be sure to capture this video and post as soon as we can, so stay tuned!
Also Jo will be a guest on the Friday Night with Jonathan Ross program, which will air Friday 6 July at 10.35pm on BBC One. Anyone who can capture this video interview, please send it in!
Update: As a reminder of what we told you last month, Jo will also be a guest on the Blue Peter children's show, which is running a contest to attend the taping of this program. If you have not entered yet, submissions are due by June 15. The show, which is being taped July 5, will be broadcast on July 20 on the BBC.
Thanks blanch and muttley!