"Order of the Phoenix" Soundtrack, Game, and Release Date News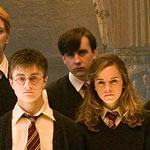 Jun 14, 2007
Uncategorized
In addition to the great news about Jo touring the US in October, we now have a few updates regarding the upcoming Harry Potter and the Order of the Phoenix film.
In a press release issued this morning, WB confirmed the July 10 release of the soundtrack to the fifth Harry Potter movie, and there was more from composer Nicholas Hooper about his score for the movie.
"I saw the scoring of this Harry Potter film as a great opportunity to work with such important themes on a grand scale," Hooper says. "David Yates and I started early, even before filming started, working on such themes as Ministry of Magic, Umbridge, and Voldemort. However, as we came closer to the final cut, the music developed beyond what we had first imagined, so there was that inevitable race against time. My process is one of discovery, rather than having a specific plan. This can be nerve-wracking, but it has its creative benefits."

Hooper recorded nearly two hours of music at London's fabled Abbey Road Studios, famous for its acoustics and ambience. His team included engineer Peter Cobbin (the "Lord of the Rings" trilogy), and conductor Alastair King ("Pirates of the Caribbean: Dead Man's Chest") who conducted the Chamber Orchestra of London. "The team was the best around," Hooper says. "We had a complete rapport and I always felt that they knew what we were trying to achieve."
Also, as TLC first told you the Harry Potter and the Order of the Phoenix video game would be available for the Mac computer system this summer. Thanks to TLC reader Bret, we now have the video announcement of this here in our galleries.
On a related note, there has been a slew of new screen shots of the new OotP video game released for the DS and WIi platforms, and you can see these here in our image galleries. Also thanks to readers Jonathan and calguy, we can see a video of the opening montage of the Wii game here at IGN.
Update You can now see this in our galleries. The Harry Potter and the Order of the Phoenix video game will be released at the end of this month on June 25.
Finally, scores of readers owled with the news that the release date of the fifth Harry Potter film in Argentina, Chile, Colombia and Peru as well as Brazil will now be July 11. Update: Thanks to Felipe (via HarryLatino.com) for letting us know that Bolivia, Puerto Rico, Uruguay , Venezuela,and Panama will also have the July 11 release date.
Phew! Thanks to all who emailed!