Borders Special "Harry Potter Book Club" Now Available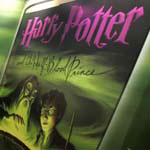 Jun 17, 2007
Uncategorized
Borders has now relesed their "Harry Potter Book Club," a joint presentation with PotterCast, our Harry Potter podcast. The discussion took place between PotterCast and several Phoenix Rising attendees a few weekends ago in New Orleans. The talk goes about an hour (and is viewable or downloadable in chapters or in full, in WMV and in iPod format) and touches on topics ranging from who will die to how we all became fans.
PotterCast is also on tour right now; we're trying to put together a fan hangout in Santa Fe, NM, tomorrow, so keep an eye on our blog for more.
Big thanks to Borders for this awesome chance to present a talk that considers the important issues to fans. We had a great time doing it and we hope you enjoy it!