Bloomsbury's JKR "Midnight Signing" Winners Beginning to be Notified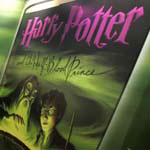 Jun 19, 2007
Uncategorized
As we previously reported, Bloomsbury's competition for fans in the UK to attend the "Midnight Signing" with author J. K. Rowling has closed and the very, very lucky winners are starting to receive word that they have been selected. Owls have been going out with the great news, so if you've applied, be sure to keep a weather eye on your inbox for the prize email. The email being sent out by Bloomsbury contains all the information winners would need to know to accept their prize, and begins as follows:
18th June 2007

Dear (super lucky Harry Potter fan's name),

J.K. Rowling and the Moonlight Signing, Friday 20th/ Saturday 21st July 2007

We are delighted to confirm that you have been selected in the prize draw to attend JK Rowling's book-signing of Harry Potter and the Deathly Hallows at London's Natural History Museum on the night of 20th/21st July 2007. This email contains important information so please read thoroughly and use the link at the end to respond.
If you are among the lucky winners, be sure to contact us at [email protected] with your thoughts and reactions to receiving the email, so we may share it with Potter fans around the globe.
Congratulations to everyone who won and thank you Katherine!