David Yates Discusses Directing "Harry Potter and the Order of the Phoenix"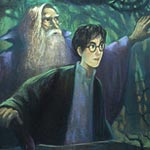 Jun 20, 2007
Uncategorized
In an extensive new article on FilmJournal.com, Harry Potter and the Order of the Phoenix director David Yates discusses taking the lead in a production as massive as OotP and gives his thoughts on the process, actors and result. Stepping into the directorial shoes after Chris Columbus, Alfonso Cuarón and Mike Newell, Mr. Yates first worked very closely with also first time Harry Potter crew member, Michael Goldenerg, to work on the screenplay.
Goldenberg stepped up to the plate when series scripter Steve Kloves decided to take an installment off. "I'm not absolutely sure how that all worked out, because Michael was contracted before I started," says Yates. "But I certainly had a great time working with him because he's a hugely collaborative and sensitive writer. He was a good choice for this assignment. He'd written a version of Peter Pan. He'd worked on Contact. He's a very emotional writer, and I think, because this is quite an emotional story, that's why David and the studio invited him along. Some have compared this to the earlier Potters."
Mr. Yates also discusses the difficult task of cutting certain parts of the story in order to create a "streamlined narrative…" for the film. He goes on to say on this subject:
"It was heartbreaking," the director-in-the-driver's-seat concedes. "When you adapt these stories, you realize that they can tend toward the episodic simply because you have all these lovely chapters that are very character-driven and you end up serving a lot of different stories. Michael wanted to feel we had one complete, unified, emotional story. That was our ambition."
Having worked on "Order of the Phoenix" for more than two and a half years, Mr. Yates is not quite ready to give up the directors chair yet. Currently working on Harry Potter and the Half-Blood Prince, he draws a parallel between himself and Chris Columbus saying:
"I'm doing a Chris Columbus. He did the first two films back-to-back, and he had this crazy schedule where he was dubbing One while he was prepping Two. I've been doing the same with Five and Six. We start shooting in September."
You can read the entirety of this excellent new interview here.