PotterCast 93: Disneyland Live!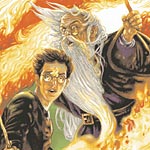 Jun 21, 2007
Uncategorized
The second show of our summer tour for PotterCast, our Harry Potter podcast is up! To listen, just hit the "Play" button on the right side of the page (—>), or use iTunes, or direct download.
Unofficial PotterCast Disneyland Tour Stop! Live from Disneyland:
– Did you take your W.O.M.B.A.T.? What did it all mean?
– J.K. Rowling is coming to the U.S. to tour, including New Orleans!
– Huge Release Party ' The Biggest Harry Potter Party Ever!
– Melissa interviews Alex Carpenter of the Remus Lupins while waiting in line on STAR TOURS. They talk about his new album: "I Was A Teenage Werewolf" and about going on tour. Lucky PotterCast fans get to hear a new cut from the album.
– Sue says she really likes margaritas, Melissa and John may need a wheel barrel. The rest of June is Harry and the Potters month.
– PotterCast.Com ' Blogs, Vlogs and much more!
– The next show will be – PC 94: Live from Albuquerque, NM with Harry and the Potters!
RT: 0:41:30
Editor: Jeff Gregory
PotterCast's Summer of Seven Tour
HarryPotterSeven.com
Scribbulus
Podcast Alley
Digg
Direct download (36 MB).
Direct download low-bandwidth (8 MB).
Remember you don't need an iPod to listen. Listen easily on iTunes, which you can download and install here, by clicking here to listen, or you can just use the streaming Flash player at PotterCast.com or just on the right side of this page. Discussion of the PotterCast is right here. Enjoy!