Open Casting Call For "Half-Blood Prince" Film Reported for London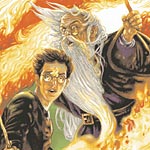 Jun 22, 2007
Uncategorized
A radio station in London, England is reporting that an open casting call is taking place for the film "Harry Potter and the Half-Blood Prince," for the parts of Lavender Brown and a young Tom Riddle. These casting calls are reportedly being held on July 1 for the part of Lavender,and July 8 for the young man who would later become Lord Voldemort. Seeking young actors between the ages of 15 and 18 years old, residents of the UK or Ireland, the article quotes WB as saying:
"We meet Tom when he is 16 and at Hogwarts. We are looking for someone between 15 and 18 years old to play him."

"He is a boy that other kids want to be friends with. He is a leader and other children want to be around him. He is not a warm boy but he is very charismatic. Both staff and children are "Lavender is in the same year as Harry, Ron and Hermione at Hogwarts. We are looking for someone between 15 and 18 years old to play her."

"Lavender is a pretty and lively girl who loves to be the centre of attention. She is determined to make Ron her boyfriend and when she gets him, she is then deeply possessive of him."

"She reacts in an extreme way to everything. She tends to be either laughing or crying hysterically. You must be aged between 15 and 18 years old – auditions will be at Earls Court in London on Sunday 1st and Sunday 8th July."probably all a little scared of him."
Please note: we do not know if this means that Christian Coulson will not be back in the role of a younger Voldemort for certain and will update with more on this and any future casting news when we can. Thanks Heike!