"Harry Potter and the Order of the Phoenix" Premieres in Japan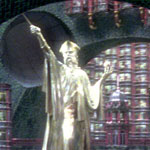 Jun 28, 2007
Uncategorized
Harry Potter and the Order of the Phoenix had its world premiere in Tokyo earlier today and a number of reports have been released online detailing the massive event. First, the BBC has a new report online from the red carpet along with a short video which shows Dan greeting the hundreds of fans, many dressed in Potter attire, who came out to see him. USA Today is also reporting an AP story which goes into more detail about the many fans at the premiere. From the article:
Hundreds of young Japanese fans, many wearing witch costumes and holding magic wands, screamed when Daniel Radcliffe appeared as white smoke spewed on the stage.

"Japanese fans are the best!" Radcliffe, dressed in a white suit, said in simple Japanese.
In related Reuters report from the Toronto Star, Dan spoke with the wire service about the film and the 'greater maturity' he expresses in "Order of the Phoenix" and how his own maturity has effected the role. David Heyman, Harry Potter film producer, also attended the premiere and spoke briefly on the casts growth since the first film in 2001. Mr. Heyman said:
"They really grow up as actors," he told Reuters at the premiere.

"In the first film, Christopher Columbus had to do things like 'chin up' all through the takes if he was not focused, 'come on, don't look away', 'Oh, you are scared'.

"Now they are able to collaborate with the director and create the parts you will see in the film."
Finally, images from the premiere and of Dan Radcliffe's arrival in Japan yesterday are now online. Getty Images is now featuring a number of pictures of Dan Radcliffe arriving in Japan yesterday and of Harry Potter producer David Heyman, along with Radcliffe, on the red carpet at the World Premiere. WireImage has similar photos of these two events which can be seen here.
Harry Potter and the Order of the Phoenix will premiere stateside in Los Angles, CA on July 8th and will be released in theaters around the country on July 11th.