MTV News Asks Harry Potter Panel: How Will the Series End?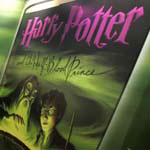 Jun 28, 2007
Uncategorized
MTV News continues its coverage of the latest Harry Potter film and final book, Harry Potter and the Deathly Hallows, with a round table discussion with a panel of Harry Potter experts to discuss what the ending of J. K. Rowling's series could be. The panel, which features our own Melissa Anelli, as well as representatives from other Potter websites and fans from the world of wizard rock, gives their opinions on the final act of the book, discusses the 'Harry is a horcrux theory' and tries to answer the burning question in many fans minds: "Is Snape Good or Evil?" You can watch the three videos which ask these questions and read a transcript of the panels full discussion about the seventh book, right here.
Additionally, these clips will air in part on MTV network of stations at the following times over the next two days. All times Eastern Standard.
MTV
Friday: 6/29- 3:50am, 5:50am
MTV2
Thursday: 6/28- 6:30pm, 7:30pm
Friday: 6/29- 2:30am, 3:30am, 4:30am, 5:30am, 6:30am, 7:30am, 8:30am
MTVU
Thursday: 6/28- 7:45pm, 8:45pm, 9:45pm, 10:45pm, 11:45pm
Friday: 6/29- 12:45am, 1:45am, 2:45am, 3:45am, 4:45am, 5:45am, 6:45am, 7:45am, 8:45am, 9:45am, 10:45am, 11:45am, 12:45pm, 2:45pm, 3:45pm, 4:45pm, 5:45pm, 6:45pm