Allen and Unwin Announce Winners In 'Midnight Signing' Competition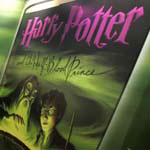 Jun 29, 2007
Uncategorized
As we reported last week, the Australian publishers of the Harry Potter series Allen and Unwin, had opened their 'J. K. Rowling and the Midnight Signing' contest for Australian and New Zealand fans to enter. The competition has now closed and the winners have been announced. The four winners, three from Austrialia and one from New Zealand, will attend the midnight reading of Harry Potter on the Deathly Hallows by author J. K. Rowling on July 21st and have the opportunity to have their book signed by Jo, following the reading. As listed on the website, the lucky winners for this competition are:
The winners from Australia:
Charlene Dehaan, Vic
Dave Hook, Tas
Elizabeth Gresham, Qld

The winner from New Zealand:
Angela Sargent, Auckland
If you are a lucky winner of this contest, or the related Bloomsbury and Scholastic competitions, be sure to email us at [email protected] with your thoughts and reactions. Many congratulations to the lucky four who won!
Thanks very much to Josh, Angela and Max!