Ten Years of Harry Potter: A Poster, and a Scottish Reporter Looks Back at Interviews with Jo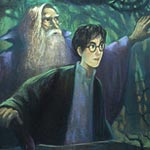 Jun 30, 2007
Uncategorized
To celebrate ten years since the first publication of Harry Potter and the Philosopher's Stone, the Globe and Mail newspaper in Canada is due to carry a full-page advertisement this weekend commemorating the occasion. Anyone with scans please send them in!
On a related note, there is an interesting article from a reporter with the Herald newspaper in Glasgow, Scotland, about her previous interviews with J.K. Rowling over the years. Anne Johnstone writes that when she first met Jo shortly after the first book had been sold " Rowling was still considering returning to part-time French teaching when we met. Looking back, I was far more confident than she was about her path to greatness. Several years later, she told me she sometimes thought she was temperamentally better suited to being "a moderately successful writer", with more time to write and without the persistent limelight."
Time went on, and as the success and fame grew for the series and for Jo, the author had her troubles during the release of Harry Potter and the Goblet of Fire.
Another interview in June 2000 involved a string of phone calls and a secrecy agreement which forbade me from divulging anything about "book four" before July 8. Now blonde and expensively dressed, Rowling nevertheless looked pale. She had come close to a nervous breakdown after finding a serious flaw in the plot of the doorstopper that turned into Harry Potter and the Goblet of Fire. It necessitated a major rewrite. Each time we met, we joked that the hype around the books couldn't get any further over the top. Each time we were wrong, which was becoming an issue for someone who admits to being "borderline phobic" about large crowds. Pushy parents nearly started a riot at a signing event in Boston, after 2000 fans showed up.

Inevitably, some of the publicity turned nasty, too. As she retired to her study and wrestled with the troublesome Goblet of Fire, newspapers that were refused interviews accused her of being aloof and reclusive and tried to dig the dirt. Rowling got her own back in the poisonous tabloid journalist Rita Skeeter, who ends up as a beetle. There were clumsy attempts to deconstruct the Potter books as gospels for a post-Christian, New Labour Britain stuck between nostalgia for the past and uncertainty about the future. There were facile rip-offs with two-dimensional characters and trashy plots. And there were plenty of critics, happy to pooh-pooh her work as formulaic and repetitive. Her answer: "I didn't write them for you."