"Trick Out Your Broom" at OotP Video Game Preview Events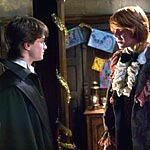 Jun 04, 2007
Uncategorized
Thousands of EBGames and GameStop stores around the country will be hosting special Harry Potter and the Order of the Phoenix video game preview events, in the lead up to the game's release on June 25. Taking place on June 16th, "Aficionados will have the opportunity to play the latest Harry Potter video game for the Nintendo Wii and test their Harry Potter knowledge in an in-store trivia challenge." Attendees will also have the opportunity to compete for tickets to the upcoming Harry Potter and the Order of the Phoenix movie. Details:
The highlight of the video game preview event is the "Trick out your Broom" contest where Potter enthusiasts age 16 and under compete for the best decorated broom prize. Contest category winners can receive tickets to see the HARRY POTTER AND THE ORDER OF THE PHOENIX movie. Individuals interested in participating in the contest or attending the video game preview should check with their local store for complete details.
You can find the location of the nearest event near you at the GameStop.com and EB Game websites.