PotterCast 91 Now Available!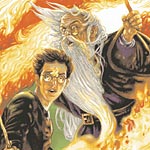 Jun 05, 2007
Uncategorized
It's the last pre-recorded edition of PotterCast, our Harry Potter podcast, before we hit the road for summer tour and read book seven in July! To listen, just hit the "Play" button on the right side of the page (—>), or use iTunes, or direct download.
-We discuss the upcoming new theme park "Wizarding World of Harry Potter" at Universal Studios and what it might mean to the "Fan Experience"
-Steve Vander Ark returns for our last week of Canon Conundrums where we discuss some of the most popular topics we'll be bringing you in the live shows; including: Wandless Magic, The Founders, Meaning of "Hallows", Percy's Fate, Time Travel, Neville's Fate, and the Locked Room.
-Scribby 5 also returns and gives a sneak-peak at the essay "The Battle in Hermione's Heart" about Hermione's feelings about Krum and Ron.
-John considers working at the new theme park
-A call for Jo to settle the Great Hufflepuff/Elf Debate
-Join us for the first-ever Unofficial Harry Potter Disneyland Day on June 16th! (We're not doing an actual show, but will be recording small, casual bits and can't wait to hang with y'all.) Details:
"Trailer" on YouTube
MySpace Group
-Don't forget to purchase an extra ticket for the Saturday luncheon keynote "Fandom: Its Future and Fascination" featuring our Squee-note Speaker: Sue Upton at Prophecy in Toronto, August 2 – 5
-SEE YOU IN CHICAGO THIS WEEKEND! Check out PotterCast.com/tour for more deatils!
RT: 1:18:38
Editors:
Canon Conundrums: Stede Bonnett
Scribby: Jeff Gregory
Trio and Show Comp: Matt Kelliher
Links:
PotterCast's Summer of Seven Tour
HarryPotterSeven.com
Scribbulus
Podcast Alley
Digg
Direct download (36 MB).
Direct download low-bandwidth (8 MB).
Remember you don't need an iPod to listen. Listen easily on iTunes, which you can download and install here, by clicking here to listen, or you can just use the streaming Flash player at PotterCast.com or just on the right side of this page. Discussion of the PotterCast is right here. Enjoy!