"Here Comes Harry" in June Issue of Film Fantasy Magazine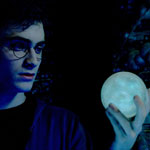 Jun 07, 2007
Uncategorized
The June 2007 issue of Film Fantasy Magazine contains a five page spread on upcoming Harry Potter and the Order of the Phoenix film with interviews from the cast, a breakdown of the upcoming film as well as the Trio's thoughts on director David Yates and the tone of the new film. While some topics mentioned in the article have been published before, actors Dan Radcliffe (Harry Potter), Rupert Grint (Ron Weasley) and Emma Watson (Hermione Granger) do give some insight into the tone and plot of the new film. Quoteage:
While there will be plenty of fun and magic, Radcliffe warns, "It's very different from the fourth one, which was very spectacular. This one is much darker, more internal emotional journey."

Radcliffe prepared for Phoenix by meeting with a bereavement counselor so he could understand survivor's guilt, since his two main relationships in the film- with his godfather Sirius Black (Gary Oldman) and Cho- are grounded in a mutual need to bond with another person after a great, shared loss.

"Sirius is clinging on to James [Harry's father and Sirius' best friend] through me, and I'm trying to know my father through him," Radcliffe details. "The same thing happens with me and Cho. I was the last person there when her last boy friend was killed."
The article goes on to quote OotP director David Yates along with actors Imelda Staunton (Professor Umbridge) and Jason Isaacs (Lucius Malfoy), who says of his experience making the film: "I get to have a wand battle with Gary Oldman, possibly my favorite actor in the universe," Isaacs says. "We get to play around like two 10-year-olds." You can read the entirety of this article here in our image galleries.
Harry Potter and the Order of the Phoenix will be released in theaters July 11.