Australian '60 Minutes' Interview with Harry Potter Trio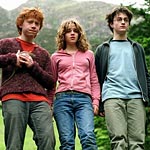 Jul 01, 2007
Uncategorized
Daniel Radcliffe (Harry Potter), Rupert Grint (Ron Weasley) and Emma Watson (Hermione Granger) appeared on Australia's 60 Minutes program this past evening. Discussing the latest film, Harry Potter and the Order of the Phoenix, and final book, the actors comment on many subjects including: having fame and fans, filming OotP and waiting to find out the ending of Harry Potter and the Deathly Hallows like everyone else. You can read the entire transcript of the segment here, but here are a few highlights from the piece:
TARA BROWN: The Order of the Phoenix is the fifth film in the series. It's darker and edgier but with the same faithful friends and fearsome foes. Are you still getting a kick out of it?

DANIEL RADCLIFFE: Yeah, I am actually. When you get some brilliant reactions from kids, when you totally freak them out, I think that, for me, is the power of magic.

TARA BROWN: Now, Hermione has been an infuriatingly sensible witch all along. Now she's loosened up a little bit in this film. Does that make her more fun to play?

EMMA WATSON: Yeah, I really enjoyed playing kind of her rebellious side. She kind of breaks free a bit because previously she's played by the rules and would rather die than be expelled so yeah, I'm the rebel.
The piece also features a short interview with Barry Cunningham, one of the first publishers to print J. K. Rowling's work and a few young Harry Potter fans who give their opinion on how the series will end. We are working on getting video of this appearance and will update you when we do.
Thanks to Nat, Lily and Mark for emailing!