PotterCast 97: Viva Las Vegas!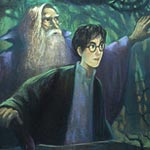 Jul 01, 2007
Uncategorized
PotterCast 97 rolls into Sin City (aka: Las Vegas, NV) for our next stop on our summer tour for PotterCast, our Harry Potter podcast! To listen, just hit the "Play" button on the right side of the page (—>), or use iTunes, or direct download.
Live from Sin City, NV:
– The Trio asks Vegas the Five Questions: Harry will live, Las Vegas trusts Snape, Harry is not a Horcrux, Harry will not return to school and we will go behind the veil in Book 7
– The Trio asks Vegas what other experiments has Voldemort done to become immortal?
– Voldemort and his body doubles.
– The Horcrux Hot Air Balloon.
– Fan Thoughts and Theories: How many people think the locket found in Grimmauld Place is the real horcrux? Dumbledore used the chocolate frog cards to spy on students. Are the magical creatures going to play a part in the war? There are six missing Death Eaters, Who are they? How will Wormtail's Life Debt play out? Is your magic canceled by your death?
RT: 0:54:56
Editor: Jeff Gregory
PotterCast's Summer of Seven Tour
HarryPotterSeven.com
Harry and the Potters
Podcast Alley
Digg
Direct download (25 MB).
Direct download low-bandwidth (7 MB).
To see photos from this live PotterCast, go here in our Image Galleries! If you have photos from the event that you'd like to share, please email us at [email protected]
Remember you don't need an iPod to listen. Listen easily on iTunes, which you can download and install here, by clicking here to listen, or you can just use the streaming Flash player at PotterCast.com or just on the right side of this page. Discussion of the PotterCast is right here. Enjoy!