Filch Speaks: A New Interview with Actor David Bradley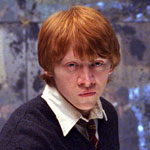 Jul 16, 2007
Uncategorized
There is a new interview online with actor David Bradley about his role as Hogwarts caretaker Argus Filch in the Harry Potter films. The acclaimed stage actor elaborates on his comedic turn in the latest Potter film, Harry Potter and the Order of the Phoenix, as he describes his role providing some of the film's lighter moments such as when his character is often seen with a hammer and ladder, posting one of the many proclamations from Umbridge, or bearing the brunt of one of the Weasley twins jokes.
"I had more screen time than ever, but not a single word to say!" laughs David, who lives in Stratford-upon-Avon. "I didn't have to bother learning lines." But, at 65, David still did all his own stunts, including teetering at the top of a 30 foot high ladder, to hang up the latest decree from nasty new Hogwarts headmistress Dolores Umbridge, played by Imelda Staunton.

"I used to be terrified of heights," reveals David. "My wife Rosanna used to have to climb up to the loft while I held the ladder. But I had to conquer my fear when I played God at the National Theatre, when I was raised above the audience."

"They were shaking the ladder on Harry Potter, so I had a harness on just in case. I found it was easier to stay up there for half an hour rather than come down after each take.

"I also had to have my face covered in boils for one scene, when Filch eats a Weasley magic sweet. That took an extra couple of hours in make-up, beyond the hour it takes to put in the hair extensions."
The article also contains brief facts about other members of the cast seen in "Order of the Phoenix," including the Phelps brothers (Fred & George Weasley), Mark Williams and Julie Walters (Arthur and Molly Weasley), and Richard Griffiths (Uncle Vernon).