Seven Questions for Rupert Grint from USA Today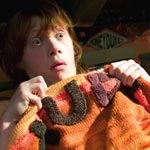 Jul 16, 2007
Uncategorized
USA Today has a new feature online where actor Rupert Grint (Ron Weasley) is asked seven questions about the soon to be published Harry Potter and the Deathly Hallows. In this interview, Rupert discusses the seven Shrieking Shack questions Scholastic has been revealing on their site. Rupert gets to theorize about Lord Voldemort, Hogwarts, love as well as whether Professor Snape is good or evil, saying:
Is Snape good or evil?

A. Grint thinks Severus Snape " a Hogwarts potions professor/Death Eater/Order of the Phoenix member " is good, but in too deep with Voldemort (34% of fans agree; an equal number say he's good and a Phoenix spy).

"I'm really uncertain," admits Grint, who has been flip-flopping on this very issue since the beginning. "I've got a funny feeling that he's good. He is quite nasty, but he saved Harry's life, so that shows he's a little more human."
A video accompanies the interview where Rupert shows us around the 'Harry Potter Museum' at Warner Bros. Studios. You can read the complete interview where Rupert answers all of the questions and watch the short tour, right here.
Thanks to those who emailed!