AskMen.com Interview with Emma Watson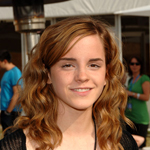 Jul 17, 2007
Uncategorized
AskMen.com is featuring an interview with actress Emma Watson conducted by IGN. In the 18 question interview, Emma talks about filming the recently released Harry Potter and the Order of the Phoenix, discusses working with costars Rupert Grint (Ron Weasley), Evanna Lynch (Luna Lovegood) and Imelda Staunton (Dolores Umbridge) and preparing for the film with director David Yates. She notes her favorite moment during filming as throwing Ron against the wall in DA training and goes on to speak further about the production, saying:
Q-7: Aside from throwing Rupert, what's been your favorite scene to film?

I just had quite a lot of fun working with the movement coach (he's actually a choreographer) for the last scene when we fight the Death Eaters. He's incorporating some choreography into the movements, the fighting, and the action sequences. It's actually really interesting and it was really good fun. The fight scenes between Voldemort and Dumbledore—watch out for that. It should be really, really good.

Q-8: What did we just watch you shoot?

They've just persuaded Harry that he's going to do this Dumbledore's Army thing and he's going to teach everyone what to do. It's just that conversation and I think David was trying to get from it a sort of energy and a sense of how excited they all are as they do something rebellious. There's quite a funny line in it where Hermione says, "It's really fun breaking the rules" and Ron's like "Who are you and what have you done with Hermione Granger?" (Laughs).