Jim Dale Not Talking the End of "Deathly Hallows"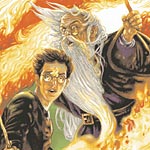 Jul 17, 2007
Uncategorized
The New York Times has a new interview with actor Jim Dale about the work he does recording the audio books of the US editions of the Harry Potter novels. In this new article, Mr. Dale says after completing his work for the Harry Potter and the Deathly Hallows audiobook, he of course knows the ending to the series ("It's a surprise ending,Let's say that") but says he will not be spoiling anyone by revealing the outcome of the book.
"Mr. Dale signed a confidentiality agreement so that he will not breathe a word of the plot.

But after spending eight years creating more than 200 voices for all the characters in the "Harry Potter" books, Mr. Dale really believes that readers " and listeners " should discover the end for themselves.

"For those people who say, ˜C'mon, Jim, how does it end?,' it's like parents who say: ˜There's a surprise gift for you in the next room. It's a bicycle,' " said Mr. Dale, whose apartment could easily make a Hogwarts professor feel at home with its eclectic collections of Victorian cake decorations, pewter plates and Persian swords. "Let the child find out for himself by opening this gift."
Hear hear!
The piece continues on to provide some insights into the process the actor uses while recording the books, and says the following about how he approached recording Harry Potter and the Deathly Hallows
"Deathly Hallows' which runs to 784 pages in the ink-and-paper version, took about two and a half weeks, working six-and-a-half-hour days, recording about 18 to 20 pages an hour, to finish. As with the other books, Mr. Dale received the manuscript only two or three days before he was scheduled to begin recording.

"That makes it impossible for me to actually read it before recording it' said Mr. Dale, who does not possess the 13-year-old megafan's ability to inhale the book in a weekend.

So he read about 100 pages ahead, and noted all the different voices he needed for the first few days of recording. The benefit of reading in chunks, Mr. Dale said, is that: "I don't ever know how the book is going to end so I can't unconsciously lead you in the direction that the book is going. I don't know who the villain is because I am just reading 100 pages at a time."