Asda "Deathly Hallows" Books Despute Resolved for Now (updated)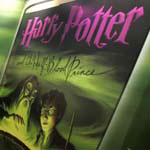 Jul 17, 2007
Uncategorized
Update: An apparent unpaid bill was apparently behind the reason the Asda stores in the UK felt they would not be receiving copies of Harry Potter and the Deathly Hallows. The BBC reported earlier today that Bloomsbury is claiming the Asda chain of stores had not paid the bill for the copies of the last book.
Update: Reports now say however this money has been paid. The Timesis reporting late this evening that
"Asda says that it has this afternoon sent money to the publisher of the eagerly-awaited Harry Potter book in an attempt to settle the row which has threatened to halt delivery of its 500,000 copies."
Earlier, the store said the reason they were not getting copies of the book to sell on Saturday iwas that" the publisher was unhappy that it had criticised the book's price tag of £17.99.It has assured UK customers the issue will be resolved in time for the book launch on Saturday, although Bloomsbury said "dialogue has not opened yet".
The BBC article continues to quote a rep from Asda who says:
"It just seems funny that after we expose the potty Potter price hike, Bloomsbury are trying everything they can to stop kids getting hold of Harry Potter at a price they can afford."
In return, Bloomsbury marketing director Minna Fry said:
"the order had been cancelled due to "invoicing issues", but acknowledged the firm had been annoyed by Asda's comments.

She said: "Asda have had a problem with our pricing of Harry Potter for a while now, and they sent out a very aggressive press release saying that we were ripping off children.

"We think at 608 pages, £17.99 is extremely good value."
More when we get it! Thanks to Roonwit, Rachael, and all who owled!